Jordan Estate
Alexander Valley, California, United States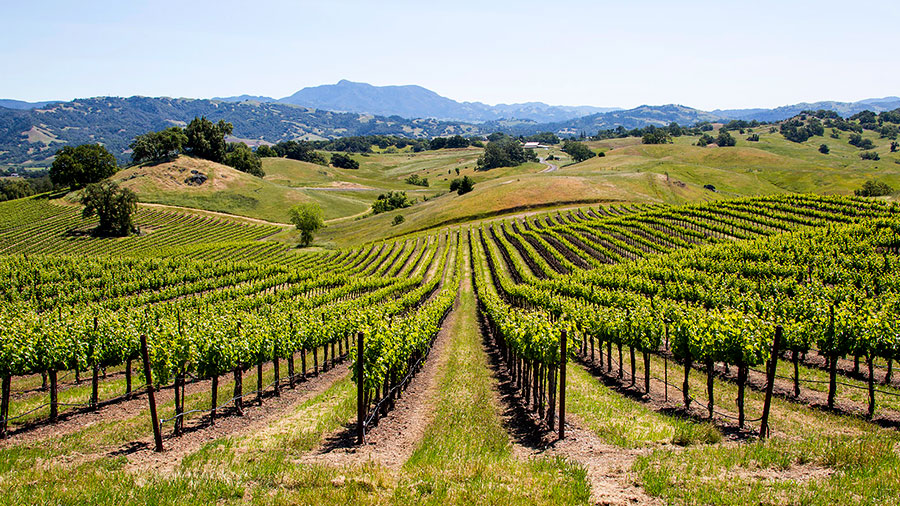 Jordan Vineyard & Winery was inspired by the great wine estates of France and the timeless connection between food and wine. Jordan Estate is nestled in the Alexander Valley of Sonoma County, where the iconic Jordan Winery Chateau overlooks nearly 1,200 acres of rolling hills and vineyards dedicated to agriculture, hospitality and conservation.

Unique amongst Healdsburg wineries, more than three-quarters of the scenic estate has been preserved as natural habitat—open spaces where craggy oak trees cover the landscape, geese and ducks swim the lakes, and rabbits, turkeys and coyotes roam the hills. The property includes roughly 120 acres of grapevines, 16 acres of olive trees, a one-acre garden, two lakes, several grazing pastures and many woodlands. Roughly 900 acres of our land remains wild. The biodiversity of ecosystems on the estate encourages beneficial insects and other predators that support our sustainable farming practices.

A diverse collection of roughly 70 different certified sustainable vineyard blocks for Alexander Valley Cabernet Sauvignon and Russian River Valley Chardonnay allows us to maintain the hallmark consistency and quality for which Jordan wines have become famous.

Jordan vineyards include estate blocks, which have more clay-rich soils similar to the Right Bank of Bordeaux, as well as well-drained, mid-slope grower parcels with mineral-rich soils more reminiscent of Bordeaux's Left Bank. Alexander Valley's combination of soil type and vineyard location gives our cabernet sauvignon a silky complexity found in the great first growths of Bordeaux.

The gravelly, porous soils found in grower vineyards in the Russian River Valley benchlands impart a seamlessness and subtle minerality in our chardonnay, similar to the grand cru whites of Burgundy.

These Sonoma County wine regions help to realize our French-inspired winemaking philosophy. Although the two appellations border one another near Healdsburg, they couldn't be more different in terms of climate and terrain. The Jordans started with a vision of creating a singular wine, Jordan Cabernet Sauvignon, but they quickly realized their only child needed a sibling, and Jordan Chardonnay was born. Both wines were created in the Bordeaux model of estate-grown grapes. Over the decades, our winemaker learned that both wines' taste and ageability significantly benefited by shifting to the Burgundy model—making wines from a blend of grower vineyards. These vineyards, situated farther northeast toward the mountains for cabernet sauvignon and farther southwest toward the Pacific Coast for chardonnay, have allowed Jordan wines to become an even stronger homage to their French inspiration.
Address:
1474 Alexander Valley Road
Healdsburg, CA 95448-9003
United States
---
Be the first to rate and write a review for Jordan Estate ... here