VIK
Cachapoal Valley, Chile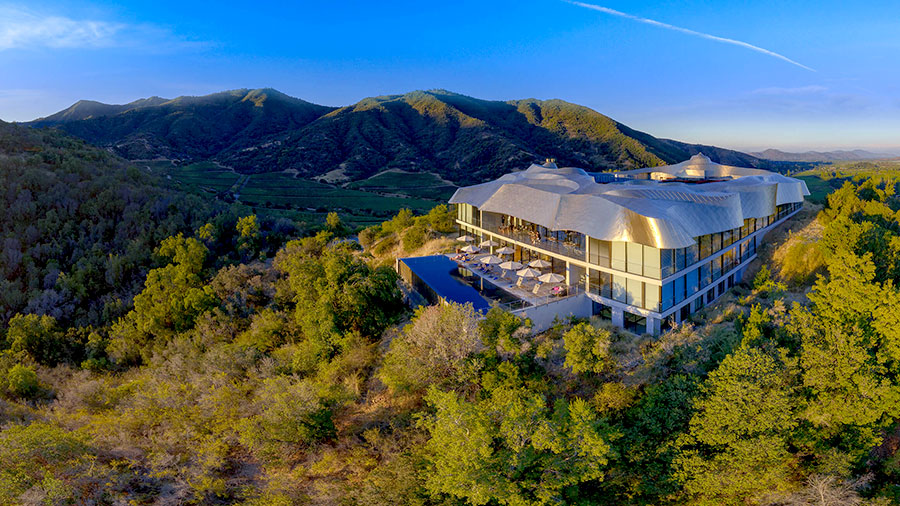 VIK vineyard was born amidst the foothills of the Andes mountains, within the Millahue Valley, named "Lugar de Oro" or "Golden Place" by the native Mapuche people. The vineyard is located on over 4,300 hectares of astonishing Chilean wilderness where they planted over 327 hectares of vines.

In 2004 Alex and Carrie VIK set out with the audacious goal of making one of the world's best wines. After a 2-year scientific search we found the best terroir in South America in Millahue (Cachapoal Valley) of Chile, a beautiful country dedicated to producing world-class wines.

VIK's terroir offers a majestic and natural landscape composed of 12 valleys, each one with its own micro-climate, distinct exposures, all within a wind-tunnel cooled by Pacific coastal breezes and winds from high up in the Andes mountains that provide VIK with enormous complexity and exceptional variety.

Set within the vines, the VIK wine cellar can be seen from the Vik Chile retreat, where guests can admire its primary architectural element: its uniquely transparent, stretched-fabric roof.

In 2007 we held an architectural competition, inviting architects from around the world to submit their design ideas for our winery. The design is state-of-the-art, highly sustainable, technologically creative and a stunning visual experience.

The winery is set amongst the mountains and sweeping valleys with the soaring Andes mountains in the distance, the winery is thoughtfully designed to impact the landscape minimally. Its roof gives the impression of an enormous sleek white wing suspended over the underground structure. Traversing through the vines to arrive at the winery, guests discover a beautiful, calming, sloping plaza of running water streaming towards the building. The magnificent water mirror features an imaginative river rock sculptural installation which visitors enjoy as they move across walkways cut into the space, absorbing the picturesque surroundings.

Discover VIK's essence through an exclusive tour of the outstanding winery and learn about the art of VIK's wines through a full-on tasting, where you can travel the vineyards though your senses. With horseback riding, mountain biking and other excursions, it is easy to be immersed in the immensity of VIK, surrounded by magnificent natural scenery, native Chilean forests and lush vegetation. Enjoy a gourmet lunch in the vineyard's Pavilion restaurant, prepared with fresh, and seasonal produce from VIK's own organic culinary garden, perfectly paired with the vineyard's wines.

The VIK retreat with its impressive architecture sits at the top of a hill, offering panoramic views of Vik Natural reserve. The luxurious, original rooms invite you to rest and indulge all your senses in a one-of-a kind experience. VIK Chile, one of the most luxurious hotel in Chile, will inspire you to switch off and unwind. Located at the top of a hill in the middle of the valley, very close to the Andes Mountain Range, Vik Chile boasts 360º panoramic views of the vineyards, the striking VIK Winery and our natural surroundings.
Address:
Millahue, Cachapoal Valley
San Vicente de Tagua
Tagua, Chile
---
Be the first to rate and write a review for VIK ... here